ABOUT THE ARTIST
ARTISTIC APPROACH
Michel Monett has been feeling and breathing nature forever. His work tells the unique relationship he has developed with his natural surroundings. Curious, he observes every rustle, every crack, every breath or runoff until you hear every pulse of nature which lives in him. A self-taught painter, Michel Monett offers us his own expression of the natural environment, both deep, wild and sculptural. His paintings are stamped with spontaneity and suggest free nature, alive and captivating where strength and fragility hold hands.
In the eyes of this artist, nature dances and breathes to become an accomplice. At the end of its gestures, it reveals itself, according to its moods. At dawn, it awakens, and stammers out its first words. The diffuse light of dawn reflects the atmosphere of the morning when anything is possible. In a little more than 20 years of exhibition symposia, Michel Monett's art has toured Québec to become noticed even in France. In 2016, he won the bronze medal from the Academy of Arts - Sciences and letters in Paris, which earned him an exhibition of his work at the Carrousel of the Louvre in December of the same year. Just previously in 2015, Michel Monett won 2nd prize at one of the most prestigious painting competitions as part of the Québec painting symposium – the Rêves d'Automne de Baie St-Paul.
Then, the day breaks and diffused light makes its way to soon occupy the entire space of the painting. We then know it's going to be a beautiful day. The inner landscapes of the artist become ours and are projected in full light. Over time, Michel Monett became a member of the Academy of Arts - Sciences and letters of Paris, Member of the Institut des Arts Figuratifs du Québec (IAF) and the Mondial ART Académia de France. 
Michel Monett's work offers us a form of realism, abstract in which every gesture, every touch of acrylic, each spot of colour, come to life by juxtaposing each other. Its nature is expressed both in texture and transparency. His paintings are so glaringly true that we, sometimes, have the impression that a torrent of water will escape the canvas and fall to our feet. Michel Monett us tells his nature with conviction, and it is clear that his inner world has the gift to sooth and calm.
Finally, when the shadows of the night scramble the last light of day, and the light no longer scatters sparks, the creator regenerates himself. Silently, he expresses all that nature still inspires in him to better capture the light. In his studio, he is imbued with nature, always listening, and hears it, before getting back to work.
Different from yesterday, and not yet those of the future, new internal landscapes are about to be born, to take on life. For Michel Monett, these moments when the imagination is not quite reality have no price since the greater freedom of the artist is to express his own nature.
EDUCATION

2005-2006     
Studies in contemporary art, UQAM,
Montreal, Qc
2005
Studies at the Académie des Beaux-Arts de Laval,
Chantale Pépin, director
Laval, QC
1998
Painting and drawing studies, Saidye Bronfman Centre for the Arts,
Montreal, QC
1997
Private studies in form and perspective with Pierre Desjardins painter
Montreal, QC
1986
Private sculpture studies with Maurice Boivert, wood sculptor, Boucherville, QC

___________________________
WORKSHOPS

2000-2005
Weekly portrait and live-model workshops, Centre Culturel               
Georges-Vanier, Montreal, QC

__________________________

SYMPOSIUMS
 
2016
Thetford-Mines
Candiac
Arts et passions Ste-Julie
Visit'Arts-Québec, promenade Samuel-De Champlain
Montréal en Arts
Vieux Beloeil
Les Couleurs du Manoir de Montebello
Danville
Happening de peinture de Tadoussac
Eau en couleurs Rivière à Pierre
Rêves d'Automne à Baie St-Paul
Galerie Hors-Cadre
Vallée Jonction
2015
Thetford-Mines
Art et Passion Ste-Julie
The New Art Festival, Ottawa
Montréal en Arts 
Domaine St-Bernard, Mont Tremblant
Festival de peinture, Mascouche
Art happening, Tadoussac
Rêves d'Automne,Baie St-Paul: Une rue à peindre, national painting contest and painting festival
Rivière Éternité, Anse St-Jean
Vallée Jonction, Beauce
Salon des Bois Franc, Victoriaville
2014
Group exposition at the World Trade Center in Montréal.
Symposiums:
Chesterville,Ste-julie, Boischatel in Québec city, Candiac, Fima in Montréal, Baie-Comeau,
Kamouraska, Domaine St-bernard, Château Richer, St-Léonard New-Brunswick, 
Mascouche, Port-Daniel in Gaspésie, Rêves D'automne at Baie-St-Paul, Rivière Éternité at Saguenay, 
Vallée Jonction Chaudière Appalache.
2013
FIMA at Montréal,
Domaine St-Bernard at Mont-Tremblant,
Château Richer Québec city,
St-Léonard New-Brunswick,
Bromont en art,
Frélighsburg
2012
St-Hyacinthe 
St-Pie

2011
Plaines couleurs, painting seminar,
Quebec City, QC

1998-2000
Yearly participation in various symposiums
Kamouraska, Granby and Sainte-Rose, QC
___________________________
SOLO  EXHIBITIONS
2015
Gallery D, Montreal
2013
Raymond-lévesque libraire, Longueuil
2011
Rouge et Sauvage studio-gallery 303
2010
Ô Bleue studio-gallery 303
2007-2008
Studio 261, Montreal
Galerie Richelieu, Montreal
2006
Ame et eau at Ars Longa gallery, Montreal
2005-2014
I operate my own private studio-gallery: Atelier-galerie 303
2003
Maison Trestler, Vaudreuil Arts Centre, Vaudreuil, QC
1998
Galerie 1040, Montreal

___________________________
GROUP EXHIBITIONS

2015
Galery  Complexe du Canal  Lachine.
2000-2005
Weekly compositions in my studio at the Galerie du Complexe du Canal Lachine
Montreal
1998
Arts centers of Mascouche, Candiac and Ste-Rose, QC
1997
Arts centers of Candiac and Ste-Rose, QC
1997
Montreal Chamber of Commerce art exhibition
___________________________
AWARDS
2015
Member of the Figurative Art Institute ( IAF )
Prize Richard Fontaine granted by his fathers to an individual and his work of art
Second place jury and prize at the national festival contest of Baie St-Paul
Third place jury and prize at Mascouche, category: professional artist
2014
Prize and solo exposition at gallery D in Montréal for 2015 won at International Art Festival of Montréal
Third place jury and prize at symposium of Candiac
Third place jury and prize at Mascouche, category: professional artist
Sélected as finalist  at the national festival contest of Baie-Saint-Paul
2013 
First place jury and prize at Domaine St-Bernard, Mont-Tremblant
2002
First prize jury in Granby, QC
2000
Honorable mention, symposium, Kamouraska, QC
___________________________
TEACHING

2008-present
Private perfecting painting lessons.

2011
École d'été des arts et métiers d'art de Mont-Laurier,                        
Mont-Laurier, QC
PUBLICATION / COVER PICTURE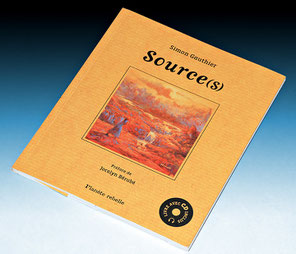 The cover picture of Source(s) is the illustration one of my paintings.