ABOUT THE ARTIST
 ARTISTIC STATEMENT / VISION :
My first years of life were marked by a highly sensitive and deep inwardness towards the world. My perceptions began to be expressed in shapes and colours which I felt urged to describe using simple materials: pencils and paper. How I would have liked my entire life to be composed of sensorial perceptions and pure creativity, whereas I succeeded in already creating a world in the image of my youth: pure, light and full of promise.
But since reality knows how to catch up to each of us at the primary necessity level, I accepted jobs in the food industry during this period. However, much like with all restrictions and difficulties, something was positive. Faced with these experiences, I developed learning processes that today serve me well in my corresponding career choice.
Also, following several years observing laws that govern the forest and wildlife, I realized that this 
inward understanding would guide me to create my very own vision of art, without using any reference except my imagination and my feelings.
Consequently, I have the feeling of giving birth to something that is greater than I am by painting the beauty of the world. In short, recreation is my primary focus and it's this drive which gives meaning to my quest for fulfilment through art. This process, still in its infancy, characterizes my entire journey and has never stopped even up to today. In fact, my paintings have become, throughout my exploratory approaches, the demonstration of my being in the process of becoming fulfilled.
Every painting, produced with this perspective, becomes a moment in eternity; the illustration of a constant internal struggle, which seeks to establish a series of breaks as part of a spiralling perceptual growth. In this way, I am basically searching how to recreate myself, to reinvent the way I look at things when developing my paintings, much like many other of life's chapters.
PROFESSIONAL DEVELOPMENT :
2005 - TODAY
From my studio I create and develop my art on a daly bases
I also prepare my expositions, teach and give private workshops.
2005-2006     
Studies in contemporary art at university of UQAM im Montréal
2005
Studies at the Académie des Beaux-Arts de Laval,
Chantal Pépin, director Ste-Rose
2000-2005
I rented a studio at Complexe du Canal Lachine
where I painted 7 days a week for five years
I attend weekly portrait and live-model workshops at Cultural Center
Georges-Vanier in Montréal
1998
Painting and drawing studies at Saidye Bronfman Centre for the Arts, Montréal
1997
Private studies in form and perspective with Pierre Desjardins painter, Montréal
1986
Private sculpture studies with Maurice Boisvert, wood sculptor, Boucherville, QC
ARTISTIC  ASSOCIATIONS :
Institut des Arts Figuratifs ( IAF )
Society of Canadian Artists
Mondial Art Academia
Société Académique Arts Sciences Lettres of Paris
 ___________________________
SOLO  EXHIBITIONS:
2017
Studio 303 " L'arrière-pays " 
2016
Gallery Hors-Cadres in Knowlton
2015
Gallery D, Montreal
2013
Raymond-Lévesque libraire, Longueuil
2011
Atelier-galerie 303 " Rouge et Sauvage "
2010
Atelier-galerie 303 " Ô bleue "
2005- TODAY
I operated my own gallery from 2005 to 2014
and then converted it in to my creation studio 
2007-2008
Studio 261, Montreal
Galerie Richelieu, Montreal
2006
Art Longa gallery, Montreal " Âme et Eau "
2003
Maison Trestler, Vaudreuil Arts Centre, Vaudreuil, QC
1998
Galerie 1040, Montreal

___________________________
GROUP EXHIBITIONS
2018
Duo exhibition at Gallery Gisèle Boulianne at Québec city
Duo exhibition at gallery 1040 Marie-Anne Montreal
Collectif art exhibition at Pointe-Valaine Otterburn Park
 2016
Salon des Beaux Arts at the Carrousel du Louvre in Paris
2015
Gallery  Complexe du Canal  Lachine.
Exposition of small formats at my studio
2014
Exposition " Couleurs sur le monde "one week exchange
with Russian painters at Baie St-Paul
Exposition with 3 artists at the World Trade Center in Montréal
2000-2005
Gallery Complexe du Canal Lachine
1998
Art center of Mascouche, Candiac and Ste-Rose, QC
1997
Art center of Candiac and Ste-Rose, QC
1997
Montreal Chamber of Commerce art exhibition
___________________________
SYMPOSIUMS
2018
Montréal en Arts, Ste-Flavie, galerie France Malo, Traces à l'Ange-Gardien en Outaouais, St-Félix d'Otis au Saguenay.
2017
Thetford-Mines, Chesterville " l'acceuil des grands peintre "
Ste-Julie " Arts et passions, symposium Ste-Rose Laval,
"The New Art festival in Ottawa,
Visit'Arts-Québec on Les promenades Samuel de Champlain,
Cap-Santé en couleurs,  Montréal en Arts,
Artistes en fêtes Ste-Flavie en Gaspésie,
Ste-Flore "rendez-vous des peintres ", Danville P.Q,
Traces à L'Ange-Gardien Gatineau,
Rêve d'Automne et " Une rue à peindre " Baie St-Paul,
Villages en couleurs l'Anse St-Jean
2016
Thetford-Mines,  Candiac,   Arts et passions Ste-Julie,
Visit'Arts-Québec, promenade Samuel-De Champlain,
Montréal en Arts,  Vieux Beloeil,  Danville,
Les Couleurs du Manoir de Montebello,
Happening de peinture de Tadoussac,
Eau en couleurs Rivière à Pierre,
Rêves d'Automne à Baie St-Paul,
Galerie Hors-Cadre,  Vallée Jonction en Beauce,
2015
Thetford-Mines,  Art et Passion Ste-Julie,
The New Art Festival in Ottawa,  Montréal en Arts,
Domaine St-Bernard at Mont Tremblant,
Festival de peinture of Mascouche,  Art happening at  Tadoussac,
Rêves d'Automne à Baie St-Paul: Une rue à peindre also
national painting contest and painting festival,  Rivière Éternité in Anse St-Jean,
Vallée Jonction in Beauce,  Salon des Bois Franc in Victoriaville,
Group exposition at the World Trade Center in Montréal.
2014
Chesterville,Ste-julie, Boischatel in Québec city, Candiac, 
Kamouraska, Domaine St-bernard, Château Richer, 
Mascouche, Port-Daniel in Gaspésie,  Fima in Montréal, Baie-Comeau,
Rêves D'automne at Baie-St-Paul, Rivière Éternité at Saguenay, 
Vallée Jonction Chaudière Appalache,  St-Léonard New-Brunswick
2013
FIMA at Montréal,  Domaine St-Bernard at Mont-Tremblant,
Château Richer Québec city,  St-Léonard New-Brunswick,
Bromont en art,  Frélighsburg
2012
St-Hyacinthe,   Ste-Pie
2011
Plaines couleurs a painting seminar in Quebec City
1998-2000
Yearly participation in various symposiums
Kamouraska, Granby and Sainte-Rose, QC
---------------------------------------------
AWARDS
2018
Chevalier d'Or symposium Ste-Flavie
2016
Bronze award at the society Arts-Science -Lettres of Paris
5 th place jury at the National art contest in Baie St-Paul
3 th place jury in the category professional artiste at Mascouche
Awarded member of Mondial Art Academia
2015
Member of the Figurative Art Institute ( IAF )
Prize Richard Fontaine granted by his fathers to an individual and his work of art
Second place jury and prize at the national festival contest of Baie St-Paul
Third place jury and prize at Mascouche, category: professional artist
2014
Prize and solo  2015 exposition at gallery D in Montréal 
won at International Art Festival of Montréal
Third place jury and prize at symposium of Candiac
Third place jury and prize at Mascouche, category: professional artist
Finalist  at the national festival contest of Baie-Saint-Paul
2013 
First place jury and prize at Domaine St-Bernard, Mont-Tremblant
2002
First prize jury in Granby, QC
2000
Honorable mention, symposium, Kamouraska, QC
___________________________
TEACHING AND WORKSHOPS
2008 to PRESENT
Have given private and group art courses on a regular bases at my 303 studio
WORKSHOPS
2017 groupe AAPARS  " Intuition,source of realization "
2016 groupe SACQ, Québec city, " Transparency in colours "
2015 groupe SACQ  " Negative spaces "
         groupe AR BORAL, St-Donat  " Colours and their sentimental resonance "
2014 groupe AR BORAL, " Atmosphere and light "
2011  École d'été des arts de Mont-Laurier " Discover your signature "
          and " Transparency in colours "
PUBLICATION / COVER PICTURE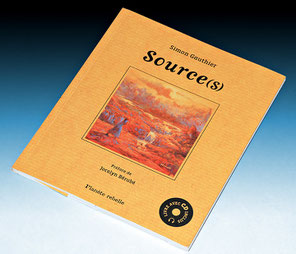 The cover picture of Source(s) is the illustration one of my paintings.